What

I can offer
My mission is to provide high-quality, accurate and professional translation services. Your documents are handled with absolute confidentiality.
Translation, if done properly, can help your company acquire a better reputation, find the desired target audience and ultimately achieve a higher turnover. I offer a real accompaniment for your project, with your company's identity and development in mind, and will meet your requirements and deadlines.
Translation costs based on the number of words of the source document. Free quote starting from 0.08 € /word.
I can deal with all your Office documents (Word, Excel, PowerPoint…), as well as PDF, HTML, TXT, etc. I also use the Trados CAT tool, which keeps track of all my previous translations to ensure consistency in my work.
Ensuring the confidentiality of client information is paramount. All documents and data that are entrusted to me are disclosed under no circumstances and are kept on a secured server. All documents are then deleted three months after completion.
Who

I am
Foreign languages have always been my passion. After graduating with a Master's honours degree and a Post Graduate Certificate of Education, I spent several years teaching in the UK, which led me to master English to a near-native level and acquire a deep understanding of British culture.
Coming back to France, I started to work as a translator in the travel and hospitality industry. I then chose to embrace a new career in the artistic field yet continued to evolve in an international environment.
During this time, I always strived to maintain a high linguistic level and perfect my communication skills. It was only natural for me to go back to my first love in 2017 and establish as a freelance translator. I now offer translation services in a variety of areas: Travel and Hospitality, Marketing, Retail and E-commerce, Luxury fashion and Ready-to-wear, Legal, Culinary arts.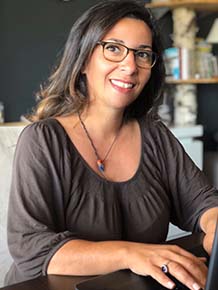 Testimonials
.
Madame BIBLOQUE Isabelle s'est chargée avec excellence et rapidité de la traduction des cartes et menus du Restaurant LE CHANTECLER et de notre Brasserie La Rotonde. J'en profite pour la remercier de son efficacité et sa diligence.

Marc Vanetti,

Hôtel Le NEGRESCO
Isabelle translated a project that I was working on into English from the original French. She was easy to work with, had excellent grammar in English (including being familiar with idiomatic expressions in English -- the sign of a good translator indeed). I would highly recommend her for your translation needs.

Vanya Green,

Music/Arts
Isabelle est fiable et compétente, c'est toujours un plaisir de travailler avec elle !

Sophie Guerinet – Lead Editor Quill Content,

HOSTELWORLD
Isabelle is an excellent, very sensitive and experienced translator, would recommend her to anyone who needs prompt quality translations.

Daria Potkina – Localization project Manager,

ZENHOTELS.COM / OSTROVOK.RU / RATEHAWK.COM
Isabelle is hard-working, quick to learn and always looking to improve her work. She knows how to use project resources to her advantage and asks the right questions. She is a strong member in both translators and editors' teams, and I look forward to working with her on more projects.

Mélanie Gougam – Lead Editor Quill Content,

TOMMY HILFIGER
Isa Translation
Isabelle Bibloque
35 Avenue Ste Marguerite,
06200 Nice, France